3 Channel Camera
Record Front side&Inside& Back side; Help the other drivers save the important evidence;
Keep eyes on your backseats especially for babies or pets in the car. A most helpful and interesting accompany for you!


Three Wide-Angle Cameras
You won't miss a thing with our 3 camera DVR unit. Featuring a pivoting Full HD 1080P front
facing camera with a 140°, a cabin facing camera(120°) with 480P camera, and a 720P backup
camera(120°) with 4 built-in infrared LED's.Records 3 separate files for each camera's view.

2+32GB inner memory ,Smooth Operation System

2GB of RAM and 32GB of flash storage(system will take about 3 GB), this device sports enough functionality
to satisfy all your music and video needs. It delivers oustanding performance and handles large software with ease.

> ADAS Plus Make Driving Safer
Advanced Driving Alarm Systems (LDWS/ FCWS/FVMA) , it is useful alarm systems to keep your driving safer.
> Lane Departure Warning System (LDWS)
Drowsy or distracted driving greatly increases the chance of an accident on the road. The LDWS will alert the driver when the vehicle goes
off lane in a speed over 50 km/h.
> FCWS (Forward Collision Warning System)
A warning is triggered when a possible forward collision is detected based on real time video recorded.

4G SIM card & WIFI
Thanks to 4G SIM card and built in wifi, no matter where you are driving, you will enjoy the fun from internet
surfing , 2G / GSM:900(B8)/1800(B3); 3G /WCDMA:2100(B1)/900(B8); 4G/LTE:FDD,2100(B1)/1800(B3)


Remote Monitor on Car Assist APP

Remote Car Assist APP, check views on the mirror dvr by smart phone. Keep surfing Internet and remote
monitor your car driving path. Download important videos and one Key to share beauties of car driving.


Monitor and Alarm
720P hpoto and 10s video alarm will be shortly (1-5s) send to your phone if a car collision happened.
GPS Track History
Car driving path will be recorded and real-time payback on car assist APP.
One Key Capture Video
One key to capture 10s video on car assist app via WiFi connection
Remarks: Please connect the dvr's wifi hotspot to make sure your smartphone and the car dvr under the same network.

GPS Navigation
Download your favorite GPS to internal memory, with the addtional GPS antenna, this
dvr provides the best experience no matter the destination is. Plus, it's 3G/4G network
function, helps the dvr to get more quickly and smoothly online GPS navigation.

Detailed Maps with Free Updates
1, beautiful 3D landmarks, buildings,parks and mountains,help you find your
bearing in unfamiliar areas. Driving with Sygic GPS Navigation is both practical and enjoyable.
2, precise distance to each maneuver will guide you to your destination. If you
miss a turn our smart algorithm will immediately recalculate to get you back on your way.
Navigate Complex Interchanges with Ease
Junsun GPS Navigation has lane assist with junction view that displays upcoming junctions and uses brightly colored arrows to indicate your
proper lane. and easily navigate complex interchanges.
More Information at a Glance
The device keeps your driving map onscreen at all times and additional information appears alongside. For details, simply ask or touch the
screen. As you drive your route, Up Ahead constantly informs you of nearby services, including fuel stations, hospitals .
Support Europe / North America / South America / Southeast Asia / Middle East map (We will install map according to your address, such
as: the United Kingdom, we will install the map of Europe)

Note: About the map, if you want to update the map, please contact us, we will upload it
to the "Drop box", please do not download in other places, otherwise it will damage the original map.
Update map time: once a year .
Original equipment look with high compatibility
With the bracket, this camera can be anti-vibrated under various bumpy road.It matches over 99%
car models. Its OEM look makes the dash cam perfectly integrate with other parts of your cars.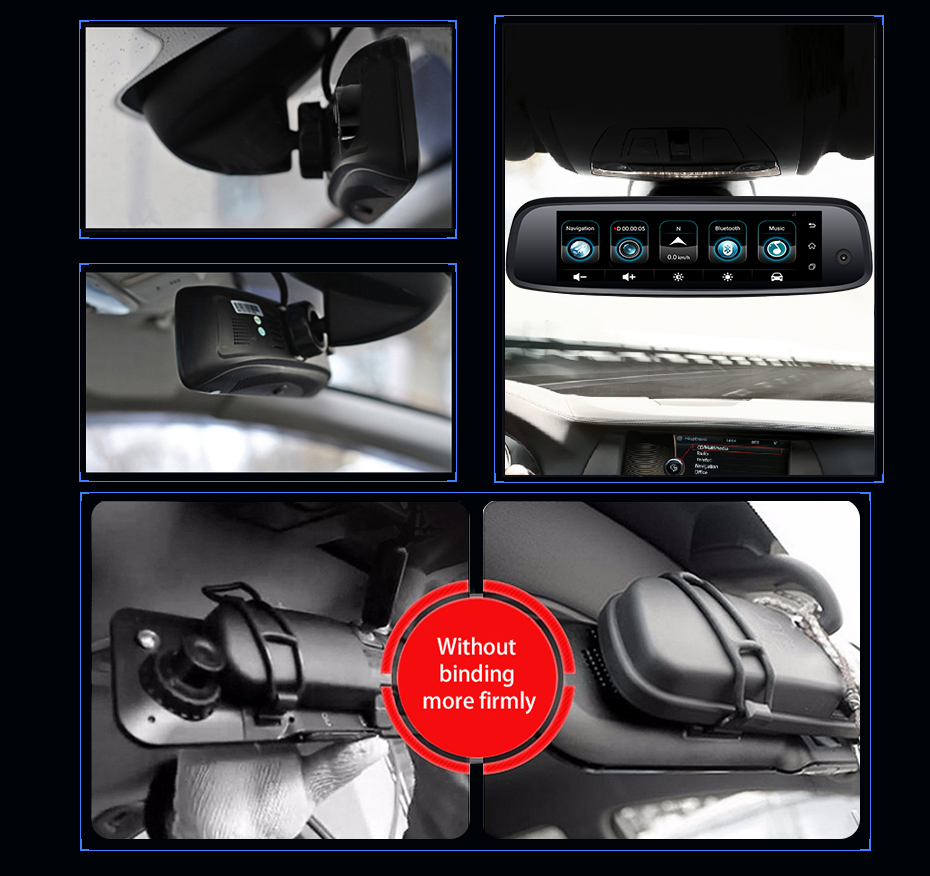 Worry-free reverse assistance
The rearview camera powers on automatically when shifting into reverse gear, What's interesting
is that you can adjust the parking line can be adjusted by Left & right ,up & down; It eliminates
most of the blind spot and won't distort the image. This will greatly improve traffic safety.

Single-Screen Screen Protector
Press the power key to turn off the display light to become normal rearview mirror
(with all the functions continue to work). You do not need to worry about how dvr work will influence safe driving.
Bluetooth Hand-free
Thanks to bluetooth hands-free, after pairing the bluetooth between dvr and smartphone,
you could make and receive calls directly from the mirror dvr itself with the built-in MIC and speaker.
FM Transmit
FM transmission function to connect car original speaker.
you could synchronize the mirror DVR music to your car audio with ease.