Two Din 7 Inch Car DVD Player For VW/Skoda/Seat With Canbus + 800MHZ CPU + 512MHZ RAM + Capacitive Touch screen + GPS Navigation with Antenna + Bluetooth + IPOD/ Iphone 4,4s,5,5s Support + FM/AM + RDS + 8G TF Card + Free Map + Installing Tools + Rear view Camera Support + DVR input Support + TPMS input Support and so on.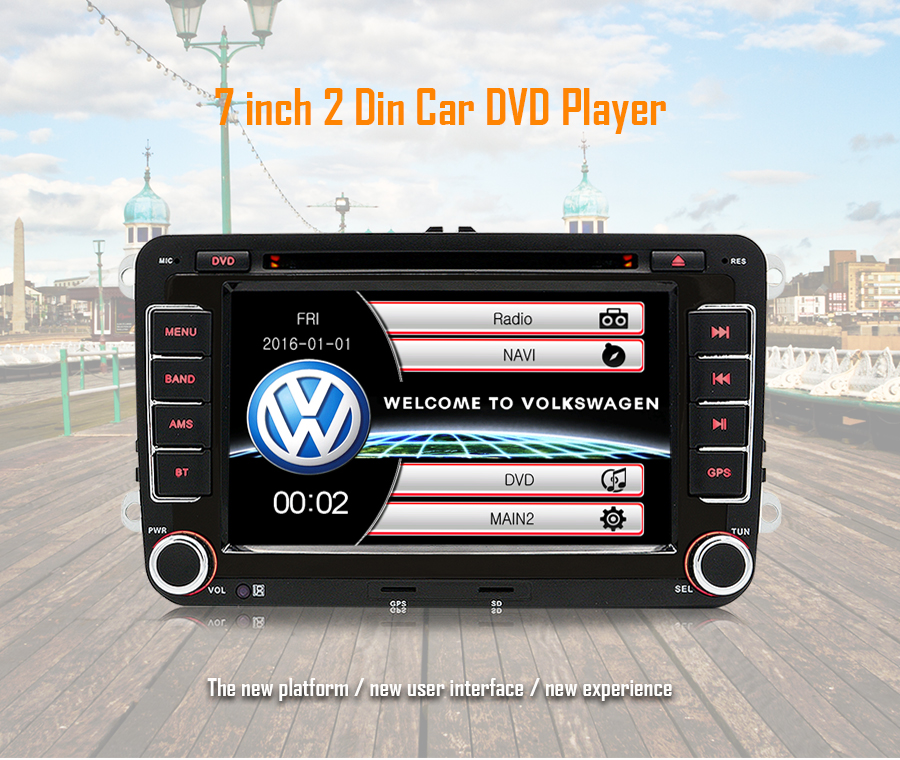 How to make sure our 2 din car dvd fit for your car?
This is a universal DVD for VW with item size: 220*208*130mm. For some vehicles needs to buy a extra frame in Alibaba or local store. We can't promise here that our device will be 100% compatible with all above listed vehicles. Please check Model, Year, and Size carefully before purchase.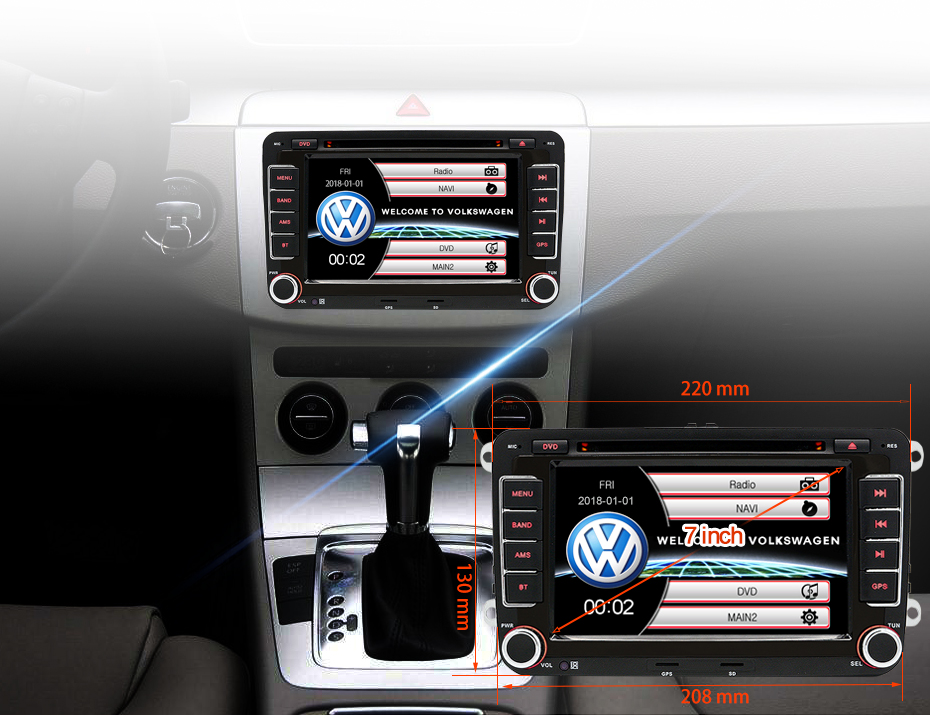 Our advantage :
7 inch 2-DIN touch screen capacitive screen, responsive, multi-touch,Color high transmittance,3D GUI User Interface easy to operate.
Support CD Player.
Support 480P RMVB video play, RGB high definition image.
​Build in RDS
screen brightness adjustment.
For high version of VW, built-in CANBUS,Support Steering wheel setting and control.
DVD playback compatible with AVI/DVD/DVD+R/DVD-R/DVD+RW/DVD-RW/VCD/MP3/CD/CD-RW/JPEG.
Built-in clock, calendar display.
2 din car radio / radio cassette recorder 2 din
Fit for volkswagen / VW Polo / Passat b6 / Golf 6 / Seat / Seat leon / Seat altea / Skoda

Audio frequency :
Driving Mode, Co-pilot mode, After the car mode. Full car model.
Support Rear-view camera and front camera input.
Language: Russian / English /Italian / Portuguese / Spanish / Arabic / Turkish / German / French
Build in radio, FM/AM with available for any market. (Europe, Australia, South America, North America, Russia, Japan, etc.)



Built in Bluetooth for mobile hands-free :
dial, phone book, call records, Unplug the phone, Bluetooth music, Bluetooth settings​.
Free to change the product interface LOGO
At the main interface continuously press VW, Skoda, seat or signal,
the indicator is set to enter the interface, select the logo you want to change

Supports steering wheel control
For the high version of VW, a function of CANBUS protocol boxes, supports steering wheel control
Car Information
Show car important information on the multimedia player, more easy and convenient to read.
Notice: it can only show the information as the original car' information.
> Detailed Maps with Free Updates
1, beautiful 3D landmarks, buildings,parks and mountains,help you find your
bearing in unfamiliar areas. Driving with Sygic GPS Navigation is both practical and enjoyable.

2, precise distance to each maneuver will guide you to your destination. If you
miss a turn our smart algorithm will immediately recalculate to get you back on your way.
> Navigate Complex Interchanges with Ease
Junsun GPS Navigation has lane assist with junction view that displays upcoming junctions and uses brightly colored arrows to indicate your proper lane. and easily navigate complex interchanges.

> More Information at a Glance
The device keeps your driving map onscreen at all times and additional information appears alongside. For details, simply ask or touch the screen. As you drive your route, Up Ahead constantly informs you of nearby services, including fuel stations, hospitals .

> About Installing maps
Support Europe / North America / South America / Southeast Asia / Middle East map (We will install map according to your address, such as: the United Kingdom, we will install the map of Europe)

Note: About the map, if you want to update the map, please contact us, we will upload it to the "Drop box", please do not download in other places, otherwise it will damage the original map.
Update map time: once a year .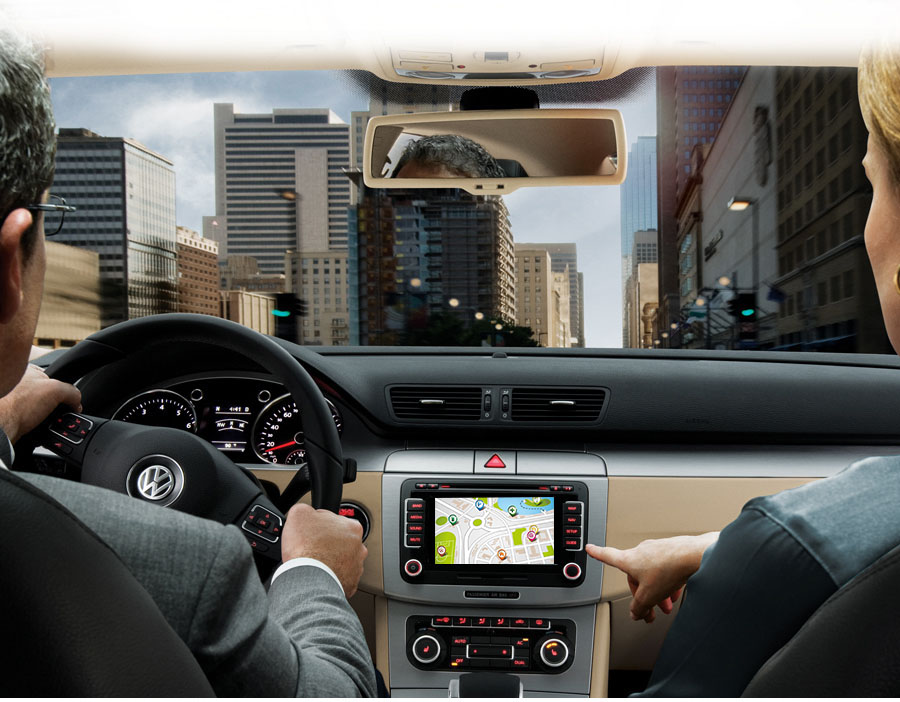 Bluetooth Built-in Handsfree Phone
Connect your smart phone and dvd by bluetooth function,you could make and receive calls directly from the car dvd itself with the built-in MIC and speaker. It can also play music by Bluetooth, and make your hand free for safe driving.

DVD player
DVD player compatible with AVI / DVD / DVD + R / DVD-R / DVD + RW / DVD-RW / VCD / MP3 / CD / CD-RW / JPEG.
Poyo NaCunKa locked playback /but for under 800 * 480 and compatible with video MP4 format
FM Switching Range
Support FM radio stations can be realized the original radio effect. Support Radio with RDS,
AM Frequency Range:522-1620KHz; FM Tuning Range:87.5-108MHz

Enabled with SD card
Poyo NaCunKa locked playback /
but for under 800 * 480 and compatible with video MP4 format

Rear camera mount
When the rear view camera is connected, the screen automatically switches back and forth