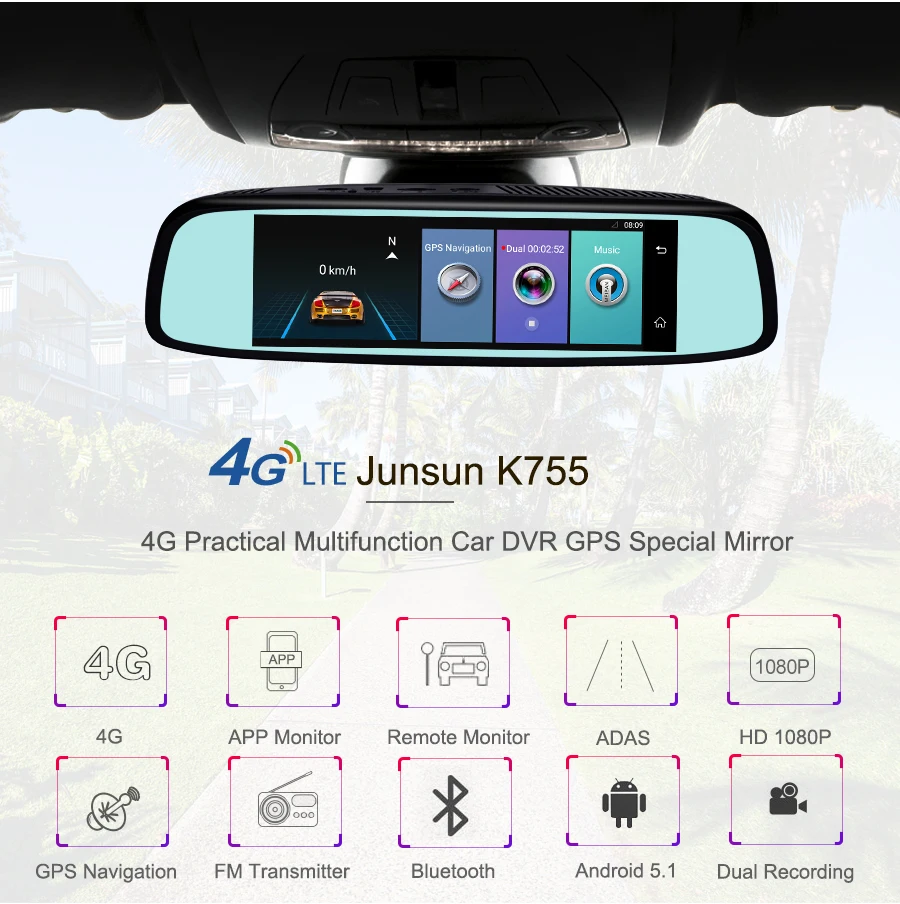 7.84 Inch IPS Touch Screen
Android 5.1 Operation Systerm
Prenmium HD 1080P Image Quality
Front camera: Full HD1080P
Rearview camera: 480p
Customized Bracket Design
4G and WiFi Surfing Internet
Remote Monitor on Car Assist APP
ADAS Safty Driivng Reminding
GPS Navigator DVR Mirror
Update the Offline Map in Free
Support Bluetooth Handfree Function
FM Transmitter to Connect Car Speakers
Dvr with Tow Cameras
Supports Reversing Parking
One Key Capture Video
Monitor and Alarm
Renote monitor on Car Assist APP
No matter where yoyu are,remote capture what happened to your car
Monitor and Alarm
720P hpoto and 10s video alarm will be shortly (1-5s) send to your phone if a car collision happened.
GPS Track History
Car driving path will be recorded and real-time payback on car assist APP.
One Key Capture Video
One key to capture 10s video on car assist app via WiFi connection
Remarks: Please connect the dvr's wifi hotspot to make sure your smartphone and the car dvr under the same network.
ADAS Plus Make Driving Safer
Advanced Driving Alarm Systems (LDWS/ FCWS/FVMA) , it is useful alarm systems to keep your driving safer.
Lane Departure Warning System (LDWS)
Drowsy or distracted driving greatly increases the chance of an accident on the road. The LDWS will alert the driver when the vehicle goes off lane in a speed over 50 km/h.
Forward Collision Warning System (FCWS)
Accidents can be avoided by maintaining a safe following distance. Road Safety Warning System in the Phisung V9 calculates the real-time distance between your vehicle and the vehicle in front of you, while driving above 30 km/h in expressways or under 30 km/h in a busy city, and issues a 3-level early warning to the driver depending on the danger of collision.
Front Vehicle Departure Warning (FVDW)
When your car is stopped at an intersection or in traffic, the intelligent guidance system informs you that the vehicle in front has started to move, preventing a delayed response just in case you stop looking ahead.
​
​
Prenmium HD 1080P Image Quality
​
HD restore the scene of the accident
Before and after the high-definition double recorded
Auto Reverse For Safe Parking
The rear camera will automatically turn on and display the image with the parking line across the screen
Within 1 s when you get the car in reverse.
With GPS + BD high-sensor GPS external antenna, this allows you to choose the optimal route and reach
Your destination without unnecessary problems. You can use the Google Map for navigation
4G / WiFi network or download your map application with online map of local data.
Thanks to bluetooth hands-free, after pairing the bluetooth between
dvr and smartphone,you could make and receive calls directly from
the mirror dvr itself with the built-in MIC and speaker.
Would you like to listen to music while driving?
Thanks to the FM transmission function, you can synchronize the dvr audio mirror music for your car with ease.
Single-Screen Screen Protector
Press the power key to turn off the display light to become normal rearview mirror.
You do not need to worry about how dvr work will influence safe driving.
General Information
Touch Screen
7.86 "Capacitive Touch screen
Operation System
Android system
CPU & Frequency
MT6735 quad-core 1.3GHz quad-core A53
4G Network Band
GSM:900(B8)/1800(B3),WCDMA:2100(B1)/900(B8),LTE:FDD,2100(B1)/1800(B3)
ROM
16GB
RAM
1GB
Screen Resolution
1920*1080P
Camera Resolution
1280*480
Wifi
Support
FM
Support
Rearview Mirror
Support
Dual lens
Support
GPS navigation
Support
Charger
Connect car charger use

Universal bracket support all car models, but the different installation methods, please rest assured purchase.
Bracket List

1#
Toyota:CROWN,REIZ,COROLLA,Camry,COROLLA,RAV4,PRAD,PRIUS,AE86,lexus,Highlander,PRADO,VIOS,Previa,LEXUS
Nissan:x-trail,march,Bluebird SYLPHY,TIIDA,Venucia,sunny,LIVINA,Qashqai
Ford:Mondeo,Kuga,focus,Explorer,S-MAX,Escort,e350,Mondeo,Fiesta Mazda:CX5,CX7,MX-5,Atenza,Axela
Chevrolet:Epica,Cruze,CAPTIVA,Sail,Malibu,TRAX,Trax
Mitsubishi:Outlander,PAJERO,LancerEX Hyundai:IX,MISTRA,Sonata,Santafe,Veloster
Honda:Odyssey,CIVIC,Accord,Crosstour,JADE,ELYSION,Acura,SPIRIOR
Kia:Sportage R,Carens,Borrego,Cadenza Subaru:SUBARU ,Forester
JEEP:Compass ,Patriot,Wrangler ,Cherokee Suzuki:SUZUKI SX4,ALIVIO,
Cadillac:Seville SLS,CTS,ESCALADE,XTS,ATS,SRX(2013)
......

2#
Honda: Accord,Honda,CRV,CIVIC,CIIMO Subaru: Impreza,Forester,Tribeca,OUTBAC
Chery:CheryA5\E5,Cowin 3 ZOTYE:ZOTYE2008


3A#
Volkswagen:Tiguan,Lamando,Jetta,SANTANA, Touran ,Sagitar,Phaeton,Magotan,PASSAT,Golf,Bora,POLO,Lavida, Cross Lavida,Skoda
Superb:Fabia,Octavia,Rapid,Yeti Audi:A1,A6L Porsche:Porsche 911
7#
Hyundai:Elantra,Tucson,VERNA,elantra,Accent,Sonata,SONATA,Santafe,Rohens,Wagon HAWTAI MOTOR:SantaFe,GALLOP-ER
Kia:cerato,Sportage,Soul,OPTIMA,Forte SSANG YONG:CAPTIVA,Kyron,ActYon,Rexton
14#
Toyota,Hyundai,Nissan,Kia,Ford,Buick
21#
Renault: Koleos,Megane,Fluence,Latitude,Scenic,Trafic,Laguna
23#
BMW:320Li/328i,525Li/535Li/530i/GT535i 523 520 ,X3 BMW MINI:MINI COUPE 2015
37#
Benz:Benz C,Benz E, GLK
38#
Nissan: NV200,navara GAC GONOW
We have more than 50 stents,You can click here
You can find the bracket that suits you

Universal bracket
( Support for all cars )
Note:
1.This device can Only work by connecting the car power with original cables! Please don't use it at home with your own power, or the device would be burn !
2.When you insert the SIM card correctly, but can not surf the Internet, please check the data of 3G/4G card. 3.We recommend using original APPs of devices only.Do not install other customized APPs. They can't be compatible with our devices.Installing too many APPs, will also slow down the operation of the equipment.
Q. Does this car dvr need special Bracket for installation?
A: No need, it just use the rubble rings to fix the dvr on the car rearview mirror.

Q. How to use 4G SIM card?
A: If this dvr with 4G SIM card, you could share the internet via using the Wi-Fi router function. The dvr's remote monitor function also need the car dvr with SIM card internet or wifi network available.

Q. Why the car dvr could not identify the SIM card?
A: Firstly, please power off the car dvr , and then please check whether you insert the SIM card by correct direction.

Q. Can I turn off the screen without turning off the recording?
A: Yes, of course, we have the ability to suppress and restore the screen with a single power button. At the moment the screen expires, we will not lose the currently running process, eg.: recorder, navigation ect.

Q. How can I listen to music from the mirror?
A: We can listen to music in several ways:
- Using the FM transmitter function - The radio wave will be transmitted to the car radio
- Using the built-in speaker. You could use the music player to listen to music .

Q. Is memory card required?
A: The device has an internal memory, and its preferred use should be for installed applications or Map data, music etc.
Video recording files, here need the memory card to support recording and storage.
Please use the Class 10 high speed micro sd card. Thank you.

Q. How do I use the speakerphone?
A: We need to run the bluetooth and then connect to our smart phone, at which point the hands free is available.

Q. What applications are useful?
A: Each user has different requirements for the application that interests him. An essential application for every driver is of course navigation. By default, Google Maps is installed on your device, and you can download any application for Android for free, such as Youtube, Waze and more.

Q.Can you simultaneously navigate while recording the front camera?
A: Yes, Mirror supports multitasking (background application).

Q.How do I connect the rear back camera?
A: Please connect the rear cable's Red color wire with your car reverse lamp power's positive pole.

Q. Does this device support Parking monitoring function?
A: Yes, Please choose to buy the OBD buck line.

Q.Does this device support Remote Monitor function?
A: Yes, no matter where you are, you could access smart mirror dvr through a supporting smartphone app "Car Assist" for instant vision.

Q. Why the car dvr no sound?
A: Please kindly check whether you turn on the car dvr's FM transmitter function, if yes , please power off the FM. Otherwise the dvr speaker will automatically turn off.

Q. Is the price include customs duty?
A: We will declare the package value at low value US$20 to reduce your customs duty. But, you may still be charged customs duties and taxes, Buyers are responsible for custom taxes.
​

If you have any special requirements, please feel free to contact us. Thank you.
All Dear friend,Pls read me before you make order.
1 . GPS navigation needs for outdoor use, search for satellite positioning! And when running GPS navigation, connect the original car charger.
2 .we will declare the lower price on the invoice/bill to help avoid custom duty. If the parcel get strict inspected by custom. You still need to pay tax to clear custom. We won`t bear the customs taxes.If you have special requests,please contact us.
3 .In the option of shipment, if you choose DHL,not include DHL remote cost, custom duty, or any commission charged by dhl for custom clearance or warehouse storage cost.
4 .Please open the parcel in post officer`s presence,If the parcel damaged or empty(stolen),please ask the post office to provide official document,especially the claim request paper.
5 .If you have any problem with your equipment, pls check our FAQ link first,it may can help you solve the problem quickly.>>: Click me to enter FAQ page
6 .About the Shipment,pls check this link.>>Click me to enter Shipment introduction Page